12


JUL
【FUN PET】Bring your pets to Courtyard Taipei for an exclusive vacation!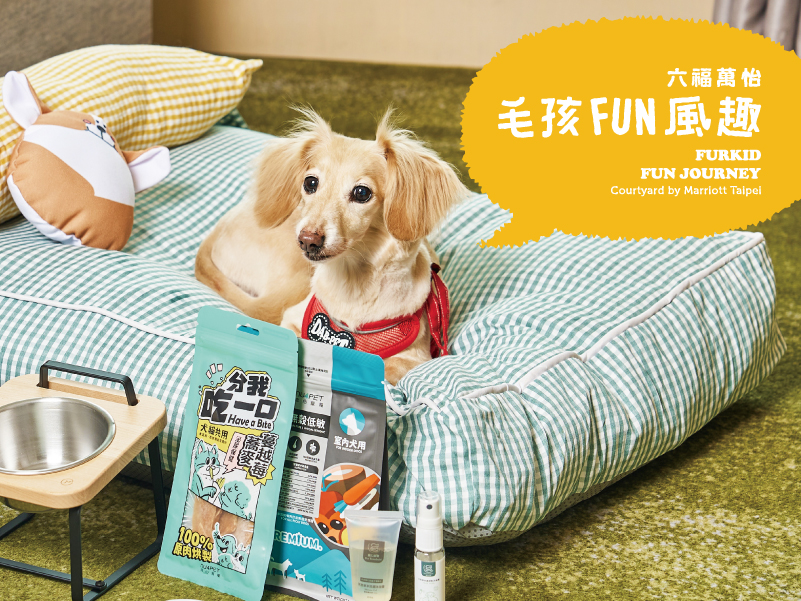 Bring your furry friends to Courtyard Taipei for a vacation! We offer exclusive pet amenities and packages starting from NT$6,280 per night, allowing you to enjoy a wonderful journey with your beloved pets.

Period of stay: From now to 2023/12/30
Check-in price:
Original price NT$15,180/night

Check-in from Sunday to Thursday, NT$6,280/night
Check in on Fridays, Saturdays and national holidays, NT$6,780/night

With pet exhibition tickets or work permits, pet photography customers of Sansheng Studio , Dongsen Pet Cloud members, and booking through petyou.com can enjoy the 5% discount on the special price.
A 10% discount on the project price can be enjoyed by showing the thermal paper sheet in the pet park.
Taipei Pet Products Exhibition in Nangang Exhibition Hall


Project content:

1. Superior Room Pet Theme Room double accommodation for one night Each room can bring a medium-sized or small dog weighing less than 20 kg or Cat check-in
2. breakfast for 2 guests on the next day
(IRD service is not provided. If breakfast needs to be changed the next day, the front desk staff must be notified before 20:00 on the day of check-in)
3. Sleeping mats, dining bowls and water bowls are provided in the room and a welcome gift for pets

[Five-star welcome gift for "Woof" room]
-
staple food cans

- dog food

- snack

- Toys
- Diapers 60*90 (2pcs)
- Eco-Friendly Poop Bags (2pcs )

[Five-Star Welcome Gift for "Meow" Room] - freeze-dried
-
staple food cans
- cat food
- snack
- Play toys
- cat litter


4. Free afternoon tea for two (takeout)(include one pet meal) Call Sunrise All Day Dining Restaurant 02.6615.6526 three days in advance, and provide the reservation number to make an appointment to pick up the meal
(16:00~18:00 on the check-in day or 11:00 the next day)
5. Free parking in the special parking lot, unlimited use of fitness Center facilities
6. The project can accumulate Marriott Bonvoy room nights and points, and does not apply to other memberships and room type upgrade benefits.
7. To enjoy pet photography in Sansheng studio, please present Sansheng studio photography appointment mail for a 30% discount on the designated plan Something Sansheng Studio Pet Photography https://somethingstudiotaiwan.com/

[Pets Fun x Something Studio Sansheng Studio]
May you be treated with tenderness, and be sent home
Courtyard by Marriott Taipei has cooperated for the first time with "Something Studio", which is dedicated to photography. The works displayed in the pet floor rooms are all captured by the professional lens of Sansheng Studio to capture the most primitive "beauty" of dogs and cats. Tenants can scan the QR-Code to read more cute photos and learn about adoption channels, hoping to find a home for the homeless together.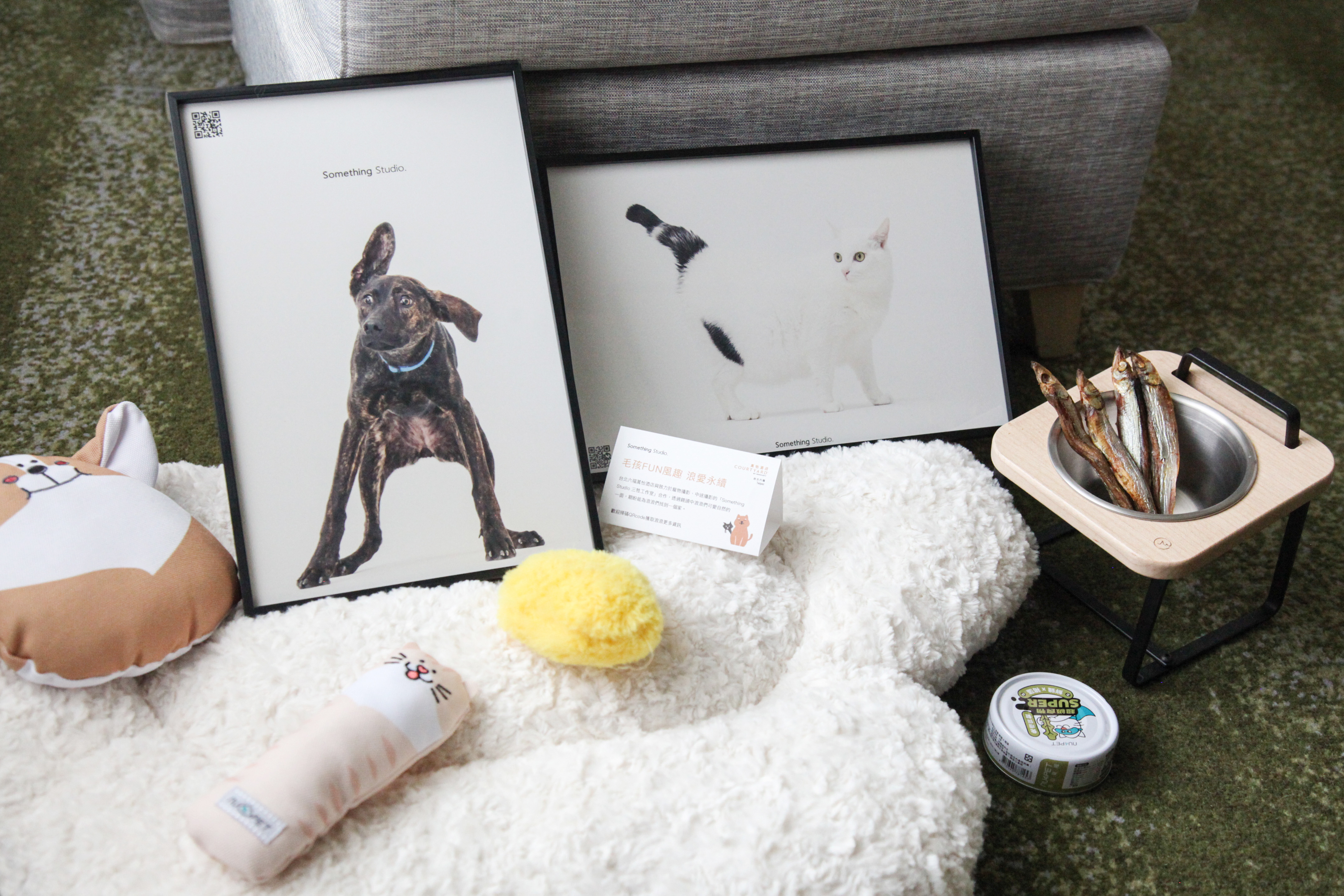 Points to note:

(1) This project needs to be booked three days in advance, and the theme room is limited on the 15th floor
(2) Each room is limited to one medium-sized or small dog or cat weighing less than 20 kg. If the regulations are not met, the housing will be canceled. With a maximum of two of the same type pet per room, and an additional cleaning fee of NT$500 will be charged for the second one (excluding sleeping mats, dining bowls, water bowls and welcome gifts for fur kids). If the regulations are not met, the housing will be canceled.
(3) When checking in, please show the proof of pet vaccinations, rabies and other vaccinations within one year
(4) This project cannot be used in conjunction with other preferential plans
(5) The coupons and meals presented by this project cannot be replaced or redeemed for cash , change or exchange for other products, lost will not be reissued
(6) This project is limited to nationals holding Taiwan documents
(7) The welcome gift for fur kids is a free gift, and services such as designated brands, changes in items, and cash discounts are not provided. Courtyard by Marriott Taipei reserves the right to adjust the items of welcome gifts for fur kids.
(8)
Sunrise: Picnic takeaway for two.

A, The meal includes smoked duck breast citrus salad, truffle French fries, American bacon beef burger, classic sandwich sandwich, Exquisite cakes , soft drinks, pet meal fresh vegetable and chicken meal (including chicken thigh, carrot, broccoli, cauliflower, pumpkin, potato, white rice, purple rice, oats, boiled eggs)
B. Parents of fur children are asked to evaluate their health and whether you are allergic to the ingredients and adjust it to a suitable size

" Pets' Accommodation Convention"
Parents (that is, accommodation customers) are required to read the following conventions carefully and abide by relevant regulations before moving in.
(1) Each room is limited to one medium-sized or small dog or cat weighing less than 20 kg.
(2) There are a maximum of two pets of the same type per room, and an additional cleaning fee of NT$500 will be charged for each pet that is brought in (only one piece of equipment is included)
(3) From the day of stay, parents are required to show it at the counter Proof of pet vaccinations, rabies and other vaccinations within one year.
(4) Please remove insects and fleas and take a bath before pets check in. In order to avoid cross-infection, if pets have infectious diseases, parents are responsible for paying for room lost due to maintenance .
(5) If the pet does not have the habit of defecating at a fixed point, ladies and gentlemen please use diapers to maintain the cleanliness of the room and environment. If pets defecate on bedding, furniture, or carpets, parents will have to pay a cleaning fee of NT$3,000 or more depending on the degree of damage.
(6) Parents are required to bring their own pet cages or pet carts. When entering public facilities such as lobbies and welcome halls, pets must be placed in pet cages or pet carts and not alone. Do not let pets out or groom in public places.
(7) Parents are requested to bring their own pet towels and bath towels. Do not use hotel towels to wipe pets.
(8) Pets are not allowed in hotel restaurants and bars.
(9) In order to prevent pets from eating by mistake, the hotel does not provide in-room catering services.
(10) When getting along with other pets, parents should take good care of them to avoid accidents, and the hotel will not bear any responsibility.
(11) The hotel does not take care of pets, nor does it provide pet storage services.
(12) In order to ensure the quality of accommodation for other guests, please keep an eye on pet movements at all times, and clean up immediately if pets defecate.
(13) Please do not allow pets to run or bark. If there is any out-of-control or barking behavior, please try your best to comfort. If there is no improvement, the hotel has the right and obligation to ask the parents to take the pet away from the scene temporarily.
(14) It is recommended not to leave pets alone in the room unattended to avoid accidents. If you want to clean the room, please call the front desk at 12:00 noon and 05:00 pm to arrange a tidying time, and take the pet out of the room during the cleaning period
(15) If you stay in the Pets FUN project, you will be given a pet exclusive equipment. Pet furniture . If you bring them back by yourself, parents need to pay according to the price.
(16) The content of the pet meal cannot be replaced. Parents are requested to evaluate the pet's health and whether it is allergic to the ingredients and adjust it to a suitable size.
(17) When checking in for accommodation with pets, a deposit of $3,000 per room per night will be collected in advance. When checking out, the hotel staff will confirm the condition of the room or hotel facilities. If there is no damage, it will be fully refunded. (18) The hotel is not responsible for the loss of pets. If the pet causes damage to the hotel or the facilities in the room, dirt, or causes an attack that causes injury to the guests or staff or violates the provisions of this accommodation agreement, the parents must fully bear the subsequent compensation responsibilities .

Reservation Hotline: 02.6615.6560
Book Now
Reservations

Online Reservations